49 Easter coloring pages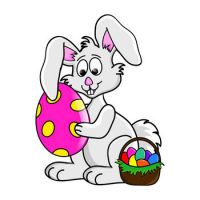 A coloring page of the Easter bunny, Easter chicks and of course a lot of easter eggs.
Where does the Easter bunny come from?
The Easter bunny is of origin an educational type, and so he only gives eggs to children who behave well. According to a translated German book, the Easter bunny found its origin in Europe around the year 1825. The activity of searching for easter eggs was later added to the tradition.
Want to know more about Easter? Read this page on Wikipedia.
More Easter coloring pages
If you can't get enough of the Easter coloring pages on Leuk voor Kids, you can click on these links and find more coloring pages.
Ratings
We love to hear what you think of this coloring page. Please pick the amount of stars to rate the pictures on this page.